| | |
| --- | --- |
| | POP3 Internet Mail Retriever |
I needed to automate the download of certain files by email. Lucky for me, the Exchange server I needed to hit supported the POP3 mail protocol that almost everybody uses. So I was able to write a very generic tool. You can run it standalone (see the picture below), or you can automate it via Windows Scripting, DOS batch files, or any VBA client!
In addition to all the advantages automation offers, this program solves three other common problems even if you don't use automation:
First, it can identify "spam". Nothing is foolproof, but I figure if a message isn't addressed to you and the clown who sent it used someone else's mail server, it's spam. You can delete all of it in one shot if you want.
Second, it can delete (or just skip) those modem-choking huge messages you sometimes get. How many times have you set your work email to auto-forward to your home account just to check in and find you have three 15 megabyte databases you don't need. With this program, you can delete those nasty pigs without touching your other mail. I manage this trick because no messages are actually downloaded until you try to read them.
Third, it lets you pick the email program you want to use to view your email. Sort of... If your email programs use file associations, things will work fine. How many times have you downloaded your email just to wish you'd downloaded this one message with your "other" email program? Maybe one of your email programs handles attachments or graphics or embedded items better. I've got things set up so I can view my email with Netscape, Internet Explorer, Notepad, Outlook Express, and WinZip. Yes, that's "and", not "or". I can be viewing the same email in all five programs at the same time.
The program comes complete with source code, sample Windows Scripting code, and sample DOS batch code. Actually, there are two distributions of the program. The "Download Now" link near the top of this page is for non-programmers. It comes with the usual installation program, but leaves off the confusing source code and documentation. If you're a programmer, you can download a smaller power-user version with no installation program (but you get source code, programming documentation, the executable (duh!) and manual installation instructions).

The Windows GUI is kind of sparse because, well, it's just a convenience feature. Here are some sample screen shots: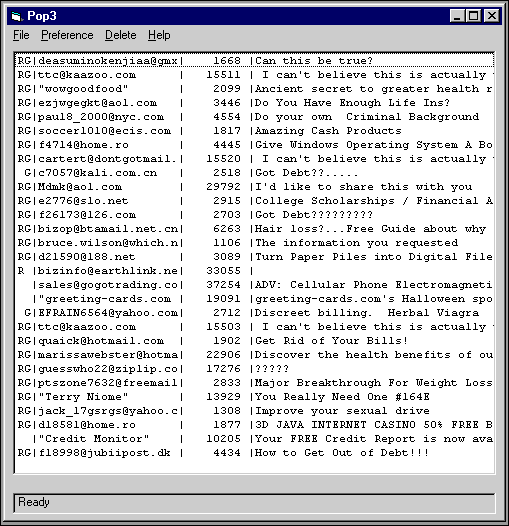 In the above graphic, relayed messages (where the sender's email server doesn't match their return email address) are marked with an "R" in the left column. Group messages (where your email address isn't on the "To:" line of the email) are marked with a "G". Any message that has both an R and a G is (as far as I'm concerned) junk. You can see me delete it all in one stroke. I went from 29 messages to 6. That's 80 percent of my spam gone. Remember, this can all be automated so it can be done BEFORE your normal email program is launched! Whatever filters your normal email program has can probably clean up what's left.
Here's how simple a batch file can be (actually, it can be simpler!) that will automatically delete spam, then launch your normal email program:
@echo off
>  pop3.ini echo [pop3]
>> pop3.ini echo PopServer=pop.myisp.com
>> pop3.ini echo PopUserName=username
>> pop3.ini echo PopPassword=pAsSwOrD
>> pop3.ini echo EmailAddress=username@myisp.com
start /w pop3.exe DELETE
start msimn.exe
cls
And here's a Windows Scripting Host Visual Basic Script that does the same thing:
Dim intCounter
Dim wsh
Dim pop
Set wsh = CreateObject("Wscript.Shell")
Set pop = CreateObject("Pop3.PopApplication")
pop.PopUserName = "username"
pop.PopServer = "pop.myisp.com"
pop.PopPassword = "pAsSwOrD"
pop.EmailAddress = "username@myisp.com"
If pop.Login Then
    For intCounter = 1 to pop.Messages.Count
        If ((pop.IsRelayed(pop.Messages(intCounter))) And (pop.IsGroup(pop.Messages(intCounter)))) Then
            pop.Messages(intCounter).Delete
        End If
    Next
End If
Set pop = Nothing
wsh.Run "C:\Program Files\Outlook Express\msimn.exe", 1
Finally, because nobody uses DOS, here's a simple static screen capture showing that yes, it can be used from the command line: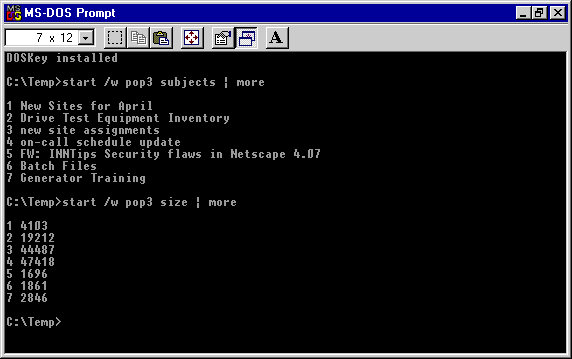 To download the program, click the "Download Now!" icon near the top of this page.
---
Alternatives to my program:
GetMail for Windows The flip-side of the popular BLAT program.
w3 JMail I've used JMail for years for it's SMTP feature. They've recently added POP3 support. JMail is strictly ActiveX automation with no GUI.

Lost? Look at the site map.
Bad links? Questions? Send me mail.